The Wedding Invitation
The wedding invitation is the very first impression your guests will get about your wedding. The perfect invitation is the one that reflects you as a couple, provides all the important information for your guests and sets the tone for your special day.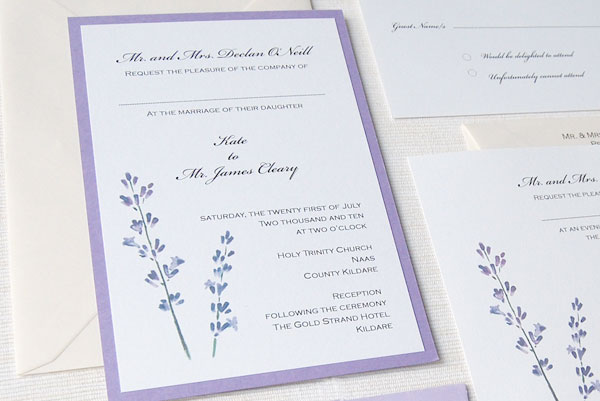 Some things to think about before ordering your wedding stationery:
What type of wedding are you having: Formal or informal?
Have you decided on colour themes for your wedding?
Would you like to coordinate with your flowers, bridesmaids' dresses or location?
What is your budget?
Do you need extra items; Wedding Place Cards, Wedding Table Plan, Wedding Favour Boxes, Wedding Menu, Guest Book, Wedding Wish Tree, etc.?
How many guests will you be inviting and how many invitations will you need?
(Lots of Love Invitations Tip)
If you work out per household how many invitations you actually need it will give you a good idea of your invitation numbers. You may find that you have mostly couples and families that will only require one invitation per household.
Give yourself plenty of time to order and proof your stationery. Usually wedding invitations are sent out 6-8 weeks before the wedding,
then it may take up to 4-6 weeks to order and produce your stationery order.
Factor in your time for writing your guest names and if you are addressing your envelopes yourself. Choose form our selection of Wedding Invitations here.